The 10 Best Calendar Apps
There are about as many calendar apps on the market today as there are reasons to use them. Not sure what features are most important to you? We've rounded up a handful of the best calendar apps out there.
These days, we need more than just task reminders from our calendar apps. Most of us are juggling work deadlines, family commitments, and personal appointments — and all of that requires a dedicated calendar tool.
What makes a calendar app great?
The best calendar apps are easy to use, offer customization options, and make collaboration simple. Integrations, features, and compatibility with your devices matter, too — you want something that streamlines your day, not something that adds steps.
Of course, there are about as many calendar apps on the market today as there are reasons to use them. Not sure what features are most important to you? We've rounded up a handful of the best calendar apps out there.
Let's take a look at their features and what makes them good options.
ClickUp
ClickUp is also more calendar-adjacent, but useful nonetheless. It's a productivity tool with calendar features, available on the web and mobile apps. ClickUp's calendar view allows users to plan, schedule, and manage their time and projects.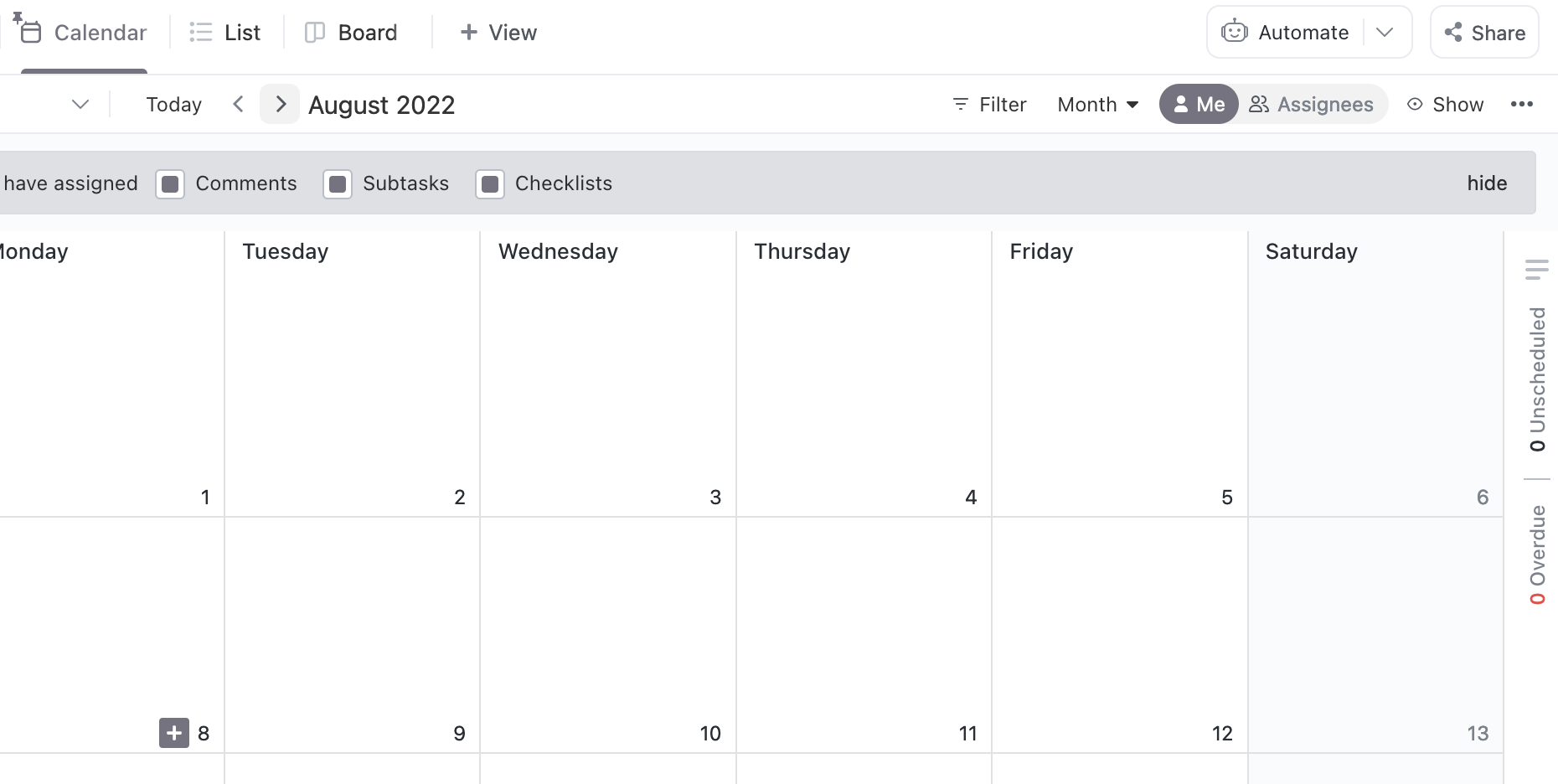 ClickUp serves as a central hub for your work: tasks, docs, chat, and automated reminders. It also integrates with a myriad of different tools, including your best calendar apps — Apple, Google, and Outlook to name a few.
Cron
Cron is a newer calendar app (the beta version launched in 2021). Right now, you can request early access to this "next-generation calendar for professionals and teams."
Recently acquired by Notion, Cron seems primed to back up its mission statement.
Here are some of the features that are available so far: focus time slots (meetings are automatically declined), availability sharing, calendar overlay, as many time zones as needed, multiple accounts, keyboard shortcuts, and attractive light and dark mode design.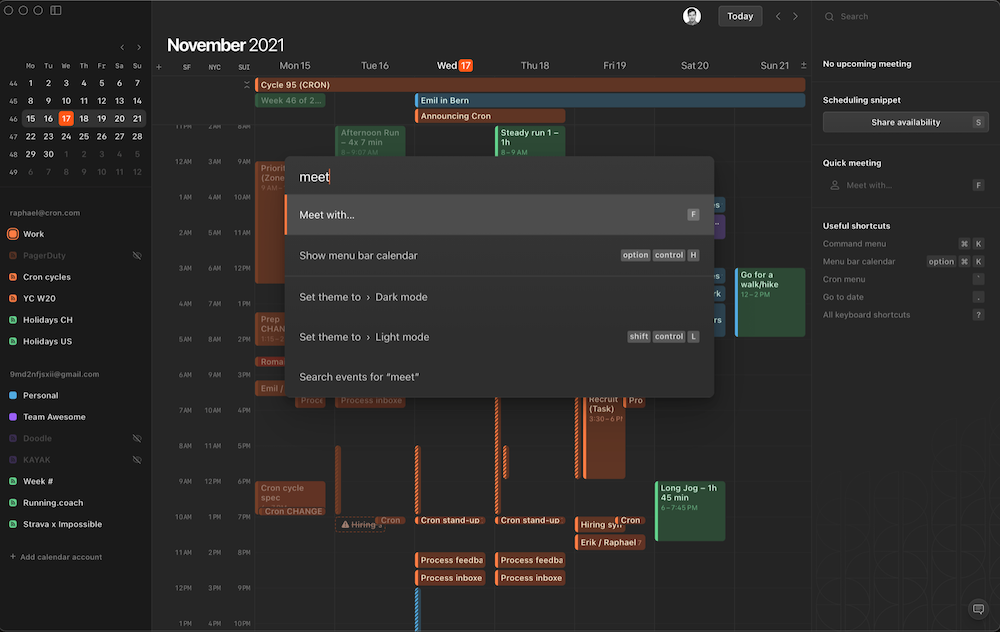 Cron is focusing on Google Calendar accounts (macOS and Windows), but compatibility with other platforms is in the works. It's likely that the team is working on other integrations as well. Pricing plans haven't been announced yet.
Fantastical
Fantastical is a stylish, robust calendar app for Apple products — available in light and dark mode. You can use it on multiple devices, and it has full-screen views for iPhone, iPad, and Mac.
One of Fantastical's best-known features is its natural-language event creation. It can take input text and convert it into events and tasks for you without any extra effort.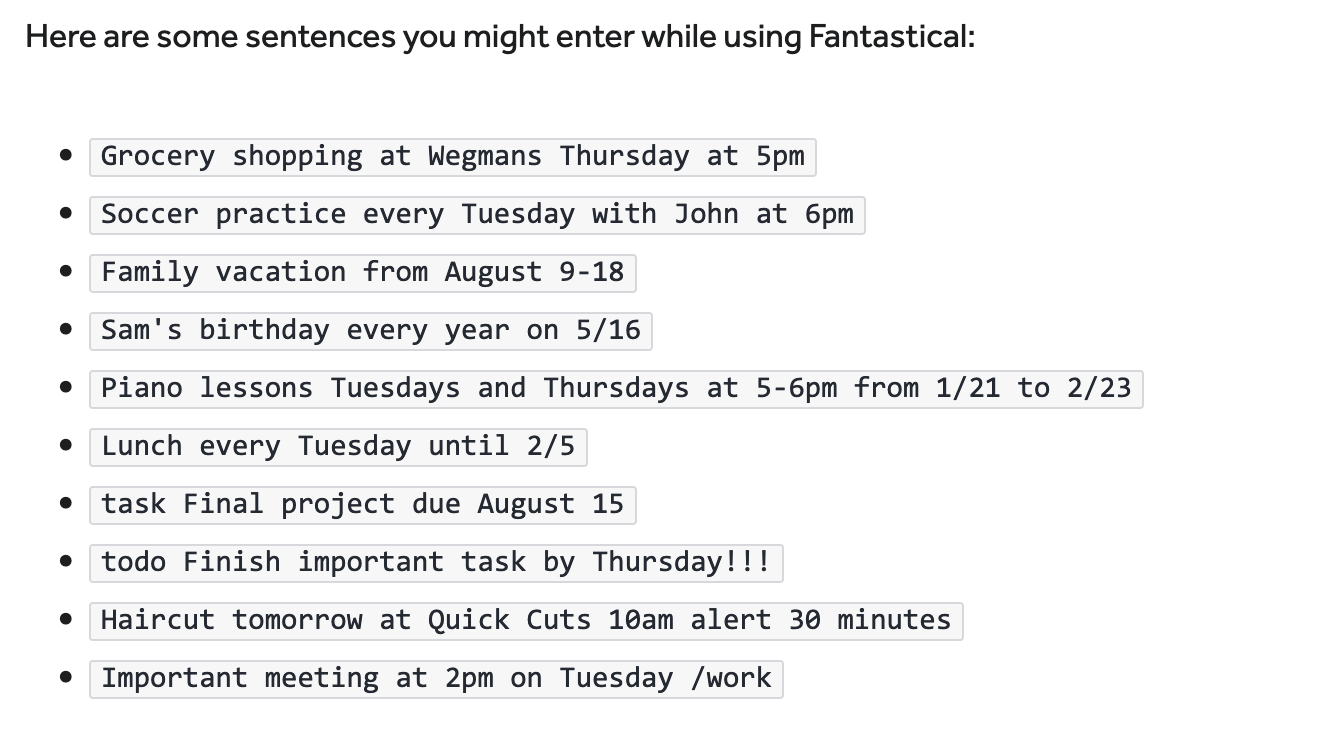 Fantastical also offers:
Openings: a feature that lets users share their availability and allows recipients to book a meeting slot.
Proposals: let users create a sharable meeting link.
Interesting calendars: pre-made calendars that users can subscribe to (e.g., sports teams, TV shows, and holidays).
File and photo attachments.
Privacy-first approach.
Fantastical has free and paid plans and a solid help and support center. The downsides: It's only available for Apple products and it could be too overwhelming if you just want a simple calendar tool.
Reclaim.ai
Reclaim is a scheduling tool that functions as a smart calendar assistant. It works with Google Calendar and automates your schedule so you can focus on your tasks and find a better balance between work and your personal life.
Using Reclaim, you can create and prioritize time blocks for routine meetings and tasks. The tool also automatically flexes time (based on your availability). For example, if your schedule isn't too busy, open times will be left available. But if your schedule is getting booked up, the tool starts to reassess priorities and decline meetings if necessary. In other words, Reclaim uses machine learning to guard your time.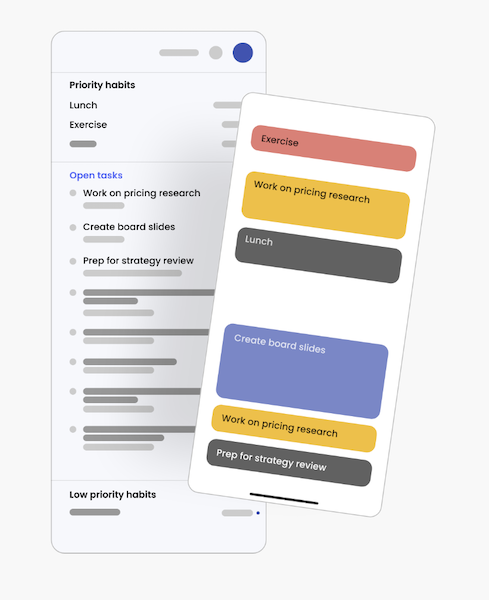 You can set habits, tasks and buffer times, and schedule regular one-on-one meetings. Reclaim syncs with multiple other work and task management tools such as Slack, Zoom, Asana, and ClickUp.
Reclaim can also audit your productivity and time allotment, so you can check your data regularly and adjust your schedule as needed.
Todoist
Again, we're cheating a little bit here, since Todoist isn't technically a calendar app (even though it has a calendar view).
Todoist works well to visualize and manage your time. It makes it simple to assess what you'd like to get done on any given date and assign each task or meeting a chunk of time. Then, voila: Let your calendar guide you through your day.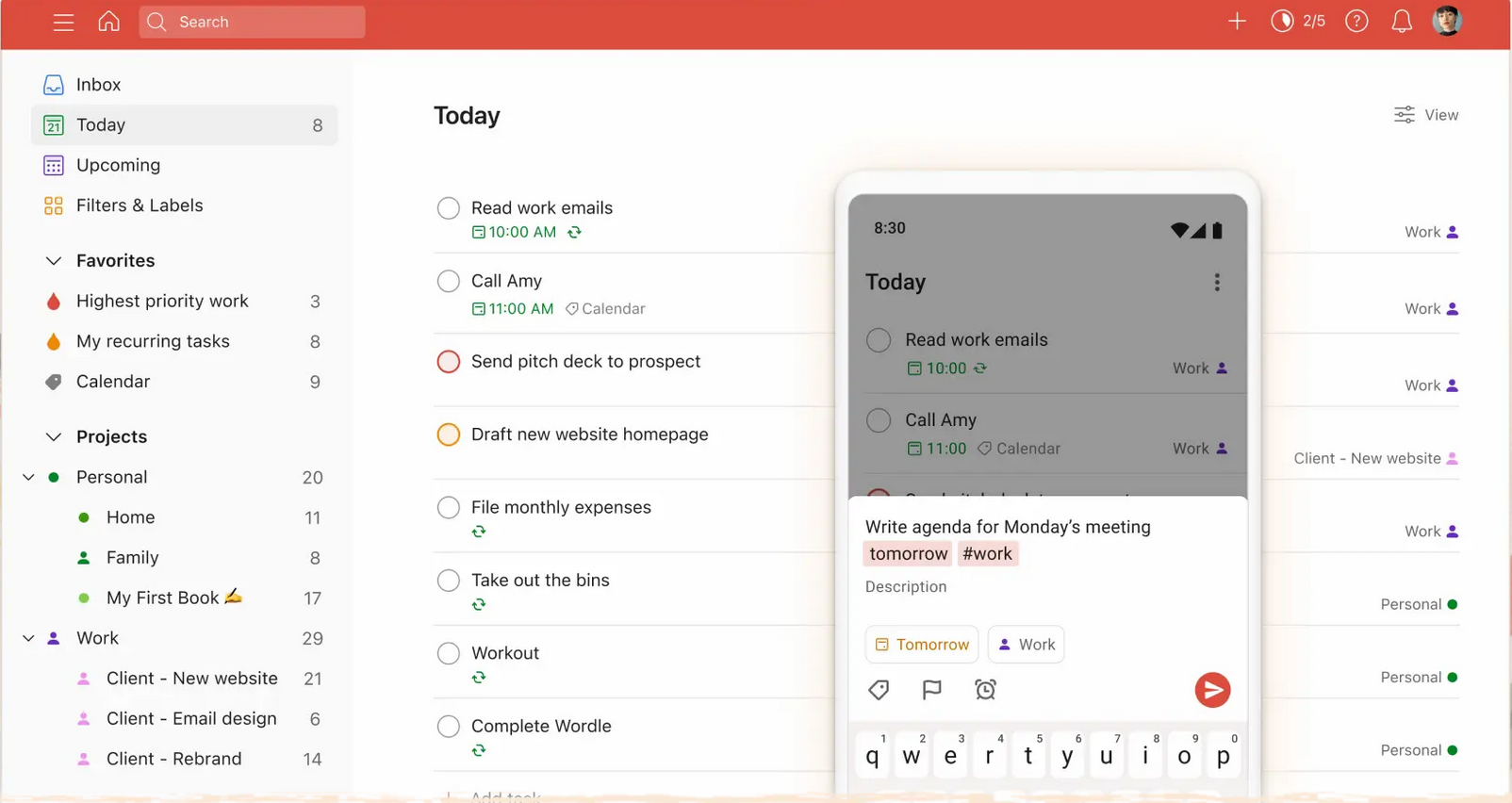 The longer you stick with this strategy, the better you'll get at estimating how long projects are going to take and understanding your working style.
It also syncs to a number of calendar tools if you'd prefer to make your list then go back to your app of choice.
Tick Tick
While using your calendar as a to-do list is great for work, it can be a huge help in your personal life as well, giving you more time and headspace to be productive.
Tick Tick has so many options for coordinating projects with other people and collaborating on the things that need to get done. You can share lists, assign (and tick off) tasks, and make notes.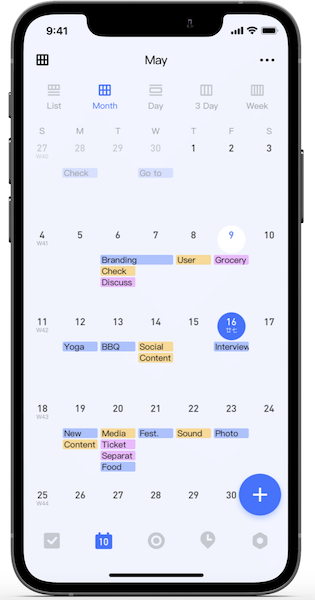 The calendar view makes it easy to see what everyone needs to do and when they need to do it, whether you're planning a party or your next product launch. Tick Tick's sharing tools make working together on a project seamless.
SavvyCal
Of course, we believe that SavvyCal is one of the best calendar apps out there. SavvyCal's mission is to take the back-and-forth out of scheduling meetings. (And we think we're doing a darn good job 😉)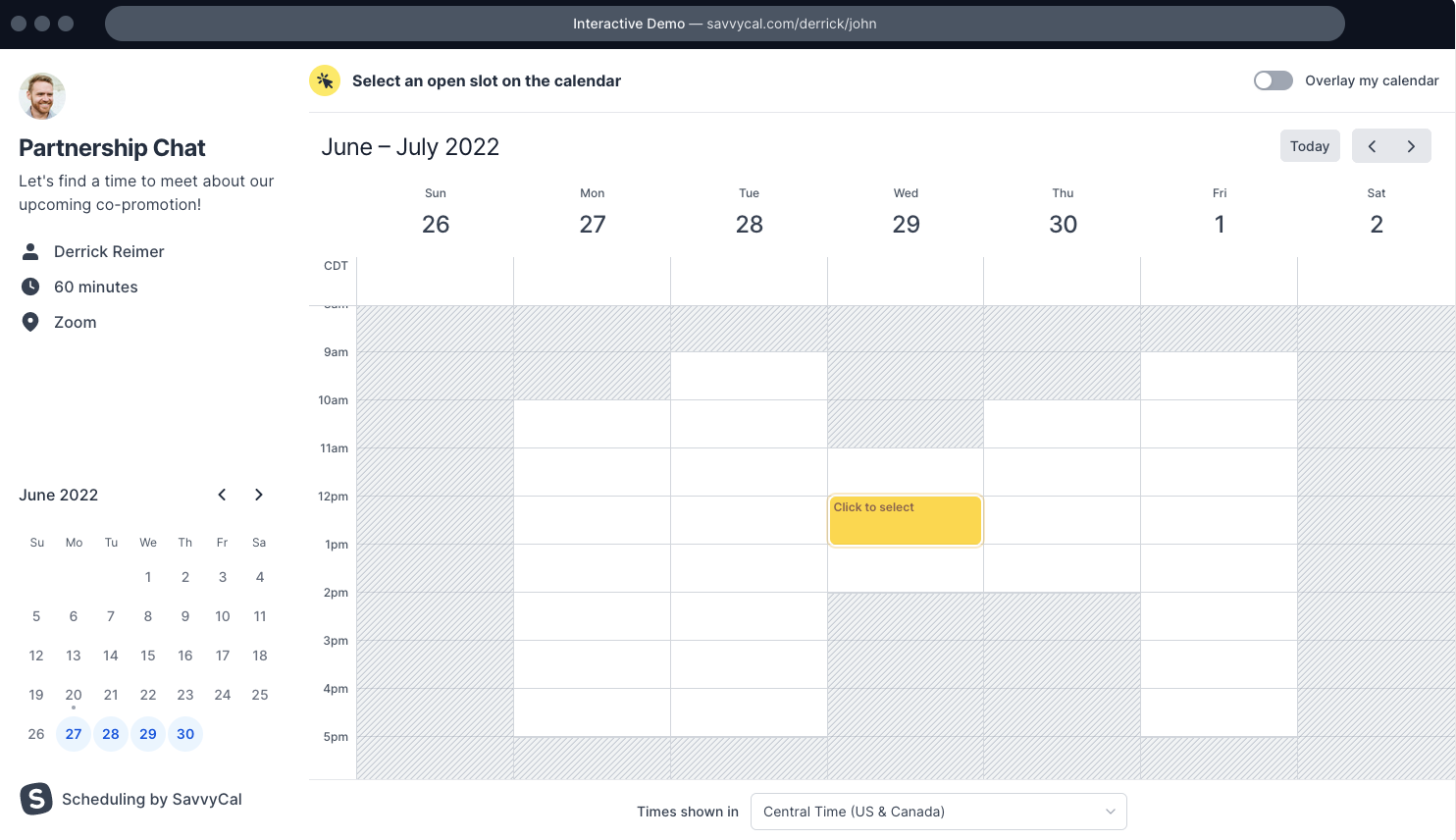 Features such as calendar overlay, ranked availability, personalization, and time blocking take the hassle out of scheduling and managing meetings. SavvyCal also integrates with numerous tools. Plus, it's attractive and simple for both the sender and the recipient.
Check out SavvyCal for yourself, and let us know what you think.
Apple Calendar
Apple Calendar is the standard calendar app for Apple products — so if you're using a Mac and iOS device, you already have Apple Calendar (and it's free).
Everything in your Apple Calendar will be synced via iCloud, and you can sync it with other calendar apps, such as Google or Outlook. It's simple to use, especially if you're already familiar with Apple products.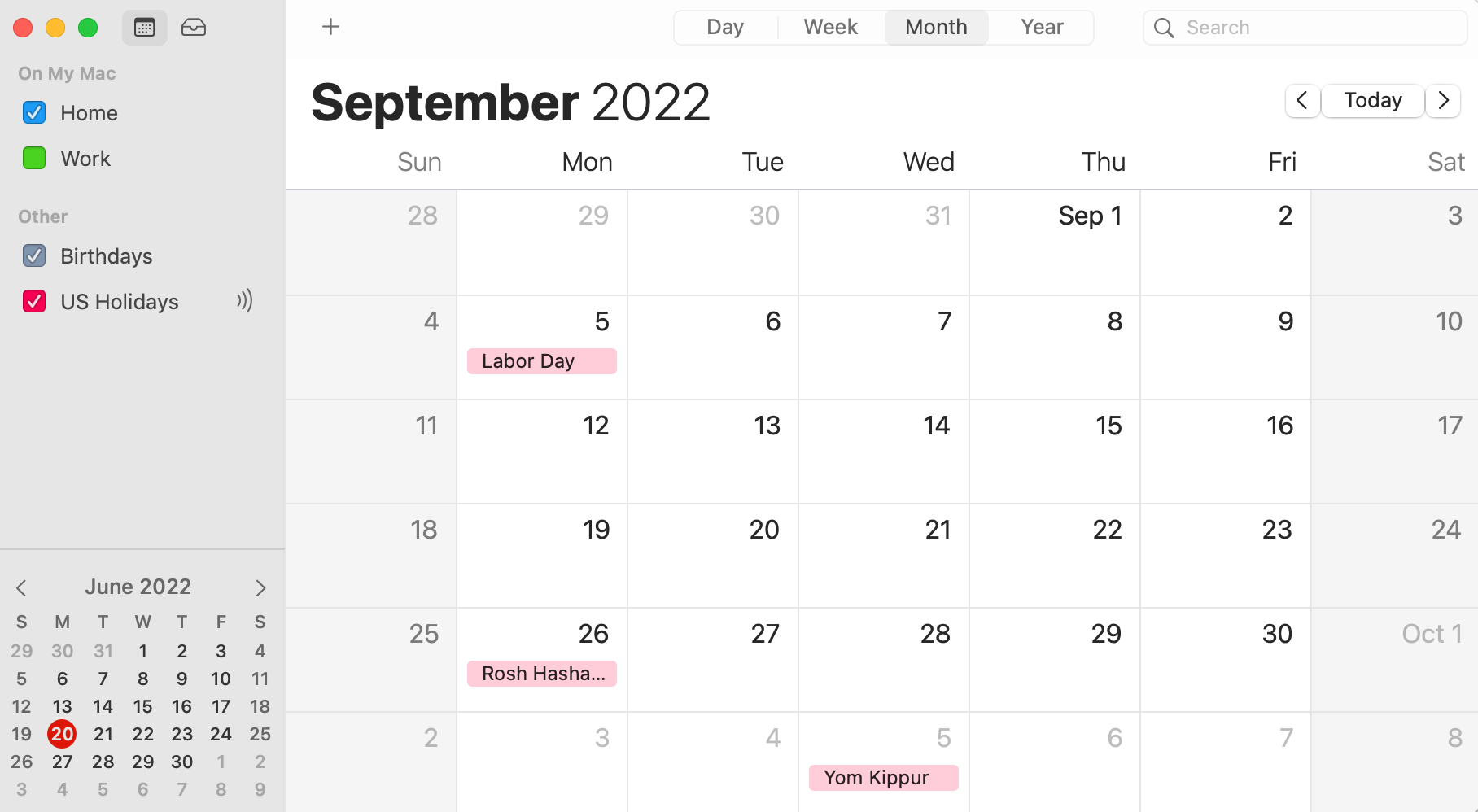 Apple Calendar also lets users:
Add a location and travel time to events.
Add FaceTime to events.
Share calendars.
Delegate accounts (or parts of accounts) to other people.
If you're already using an iPhone or MacBook, for example, and only need something with basic functionality, it makes sense to use Apple Calendar.
Google Calendar
You're probably familiar with Google Calendar. It's free for individual users, simple to use, and has a robust set of features. Google Calendar is fast, works on most platforms and mobile devices, and syncs quickly.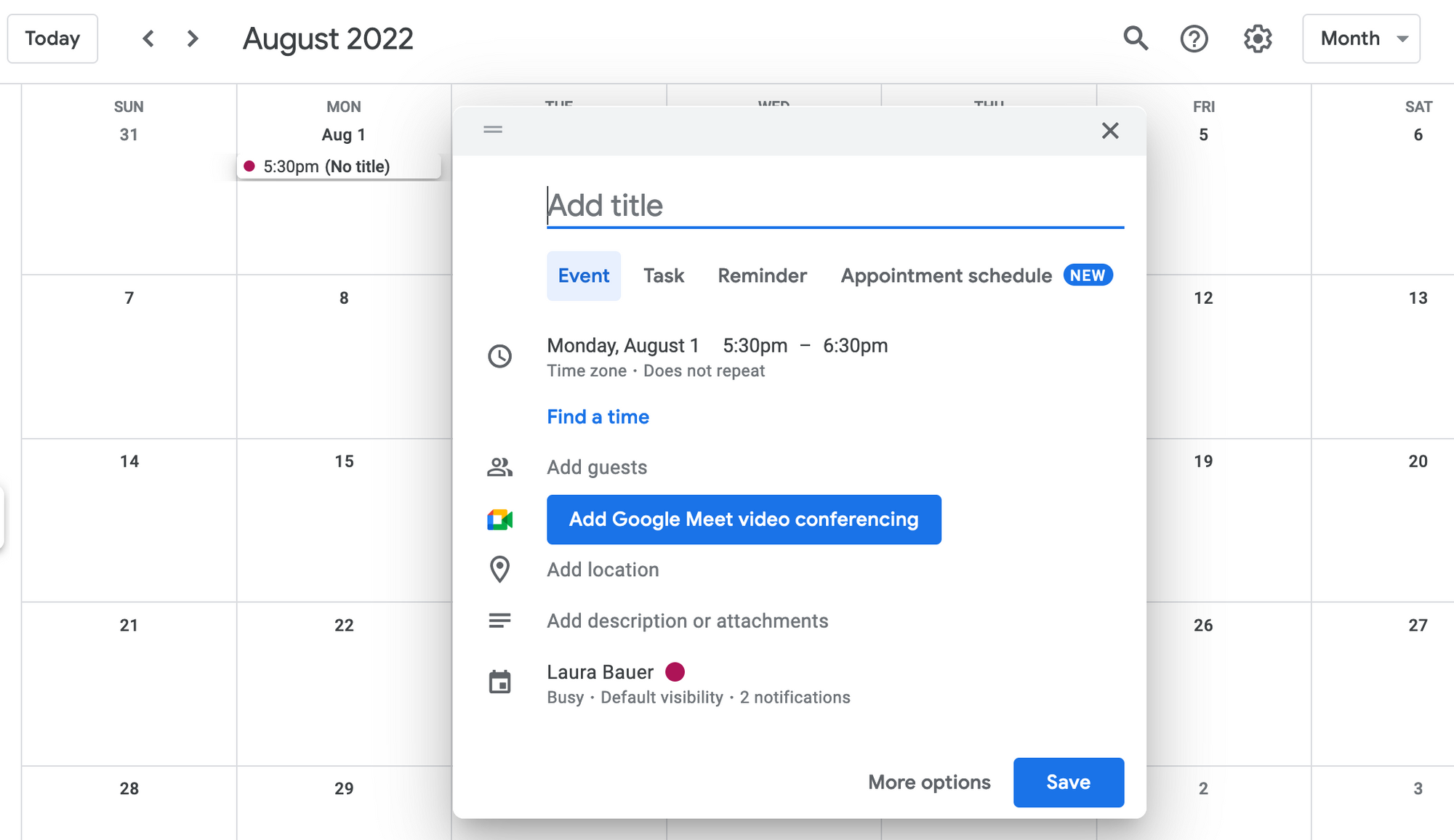 Users can create multiple calendars, share calendars, color code events, set working hours, and add video conferencing. As a bonus, tons of tools integrate with Google Calendar, including SavvyCal.
We've made it simple to sync with Google Calendar, so scheduling events is easier than ever.
Outlook Calendar
Microsoft's Outlook Calendar is another popular calendar option — especially for larger corporations. Outlook Calendar is fairly simple to use (and rather plain to look at) but it gets the job done, which is why it's maintained a presence in the workplace for so many years.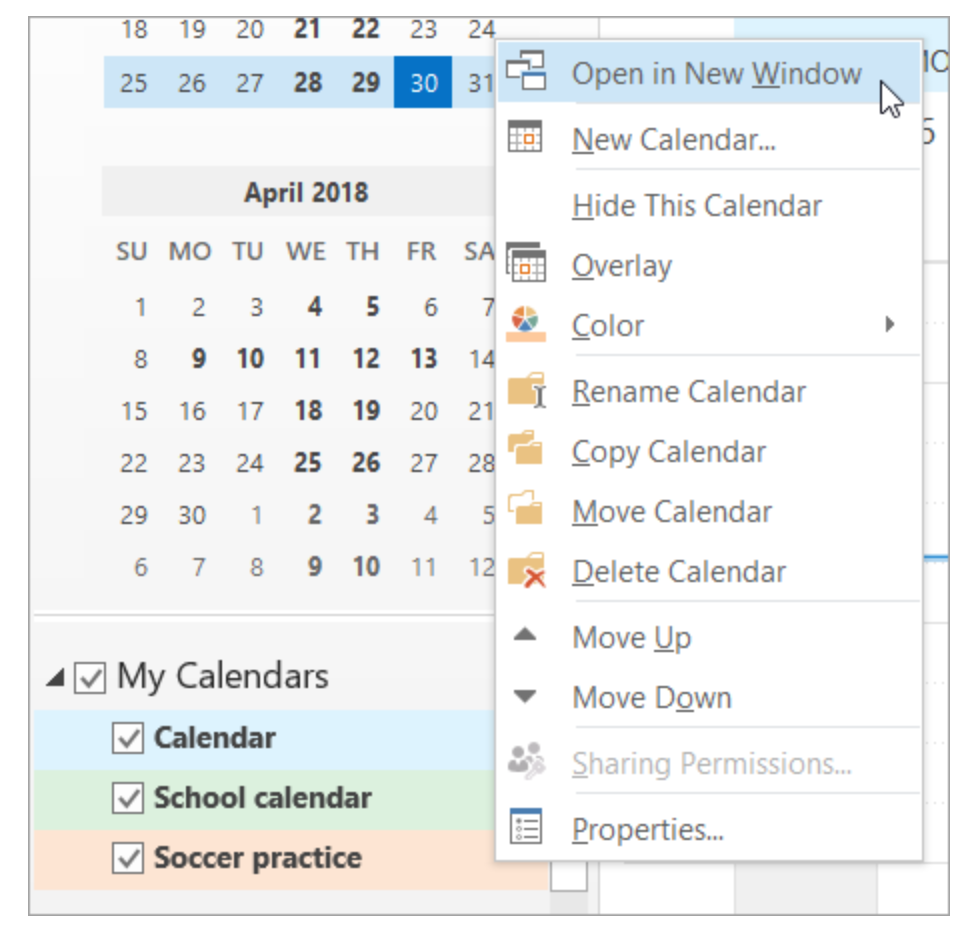 Features are limited compared to other options, but Outlook shines when it comes to sharing and connectivity features. It's easy to arrange meetings with multiple participants, you can preview schedule conflicts, and you can view suggestions for alternative slots.
Workee
Workee is a scheduling and booking tool that helps professionals manage their time more effectively. With Workee, you can easily set your availability, book appointments with clients, and get reminders. You can also track client information and project details with a single click. Workee also integrates with popular services like Google and Zoom, making it easier to sync your contacts and calendars and conduct video calls with clients.
Overall, Workee is an excellent option for anyone looking to streamline their scheduling, booking, and invoicing processes, all in one easy-to-use app.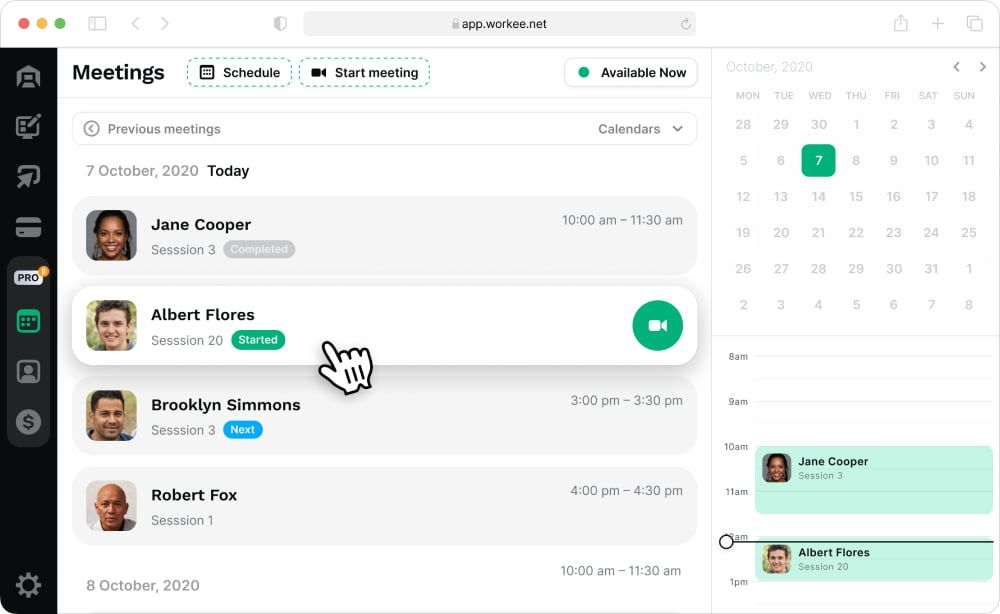 What's the best calendar app for you?
Consider what your needs are: Are you looking for a solution for your team or a way to track personal appointments? Free calendar solutions work for a lot of people, but paid calendar solutions will typically give you a more robust tool with more features. Explore all of your options and sign up for free trials (if possible).
Want to try SavvyCal? Get started for free.